The Professional Union Fire Fighters of Albany, Oregon Local 845
Organized on February 11,1946, the Fire Fighters of Albany Fire Fighters Union IAFF Local 845 serve our city of over 50,000 people. Albany sits in the heart of western Oregon's Willamette River valley, on the banks of the Willamette and its tributary, the Calapooia River. From its river town beginnings, Albany has grown south and east with the railroads, state highways and Interstate 5, and across the Willamette into the farms and wooded hillsides of North Albany. We staff 5 stations with 100% Union Professional Fire Fighters.
The City of Albany lies within both Benton and Linn counties. Albany is the largest city in Linn County and serves as the county seat. Albany is also the second largest city in Benton County.
Albany is credited by historians and architects with having the most varied collection of historic buildings in Oregon. This collection includes styles from the 1840s through the late 1920s and is concentrated in an area of about 100 square blocks. Four historic districts are listed in the National Register of Historic Places by the United States Department of the Interior.
Albany is known as the rare metals capitol of the world. Several local industries produce zirconium, hafnium, and titanium. Wood products, food processing, and manufactured homes production are major employers also.
Municipal government operates under a home rule charter in a Council-Manager form. Six City Councilors are elected to represent three geographic wards, and have overlapping 4-year terms. The Mayor is elected at large every two years. A full-time City Manager administers the affairs of the City for the Council.
| | | |
| --- | --- | --- |
| Welcome | | You are not currently logged in. |
| | | |
| --- | --- | --- |
| | | |
| | | |
| | | |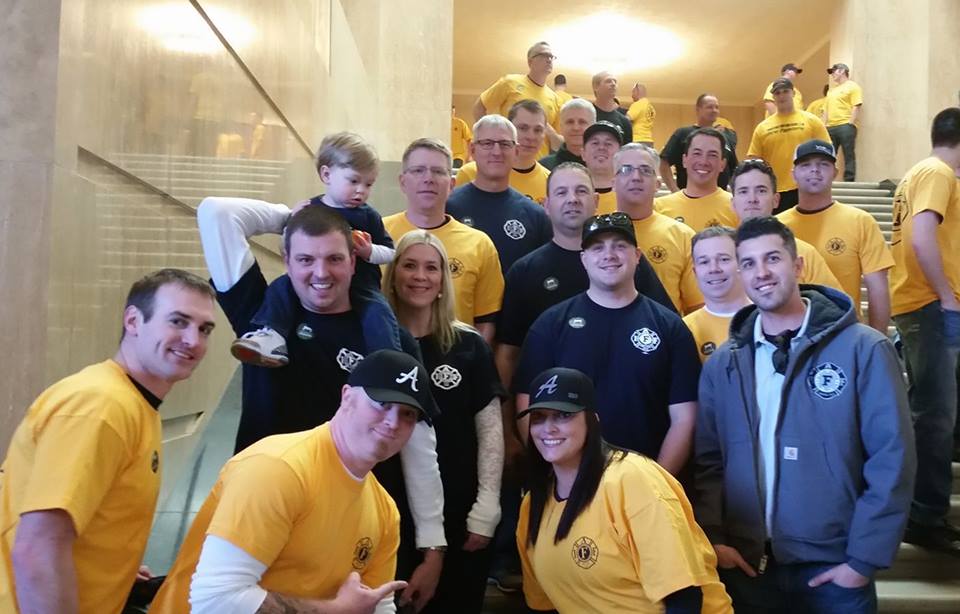 L845 members at the Oregon State Capital building during a PERS reform work session. We stood along side hundreds of other firefighters from all over the state to let our representatives know that we are paying attention and do not support the proposed bills that would severely cut our retirement benefits. #KeepOregonsPromise
The Albany Fire Fighters Union IAFF Local 845 is Proud to support and show Union Solidarity and Stand Strong with our Local United Steel Workers Union, USW Local 7150. They were Locked out of work by the employer ATI. Please show them support at their picket/rally site in South Albany on SE 34th Ave. Stay tuned for more info on ways to help our Brothers and Sisters in need. Read More...
Albany Firefighters had the opportunity to shake hands and take a photo with Vice President of the United States Joe Biden. VP Biden was in to to support Senator Jeff Merkley at his reelection rally at the convention center in Portland, Oregon on Oct. 8 2014 Read More...
Brian Vorderstrasse, far left in the back row, as he looked during his days as a Navy C-130 mechanic at McMurdo Station in Antarctica. The Navy's rules on facial hair were relaxed for those serving near the South Pole.

Overdue recognition


Brian Vorderstrasse was barely three years out of Lebanon Union High School when he found himself helping out in the aftermath of an international tragedy.

Three decades later, he was honored by the New Zealand government in Washington, D.C.

Vorderstrasse, now a 51-year-old Albany Fire Department lieutenant, was a Navy C-130

mechanic in Antarctica when navigational error caused an Air New Zealand DC-10 to crash into the frozen continent's 12,447-foot Mount Erebus on Nov. 28, 1979.

All 257 people aboard were killed.

Then 21, Vorderstrasse had been trained by New Zealand mountaineers in para-rescue — parachuting into remote locations to render medical aid. In addition to his work as a mechanic, part of his job in Antarctica was giving survival instruction to Navy pilots.

Following the crash of Air New Zealand Flight 901, Petty Officer 2nd Class Vorderstrasse was specifically requested by his Kiwi comrades to help with the body recovery effort.

"I was the only Navy para-rescue man to work on the recovery," Vorderstrasse said. "The New Zealand Police were trying to do the whole job themselves, but I had worked with them about three years. I was one of the bigger guys, and they needed some muscle. It was pretty strenuous work."

Vorderstrasse was part of a 16-man mountaineering unit that was helicoptered in and divided into four groups of four. Every day of the two-week job was broken into 12-hours shifts, with two groups covering each shift.

It was the mountaineers' job over the course of the project — Operation Overdue — to ensure the safety of the four dozen body recoverers and incident investigators as they worked at the crash site, 1,465 feet above sea level.

Most of the dead — 200 of them — were New Zealanders, but seven other nations, including the U.S., lost citizens aboard the flight.

Positive identification was eventually made on 213 of the victims; a burial service was held Feb. 22, 1980, for the 44 whose remains could not be identified.

That same year, Vorderstrasse received "a little plaque" honoring him for his work following the crash. He completed his time in the Navy — four years active duty, two years as a reserve — returned home to the Willamette Valley and went to work for the Albany Fire Department, where he's been for the last 26 years.

While he was building a career and raising a family — Vorderstrasse and his wife, Dawn, have two children — the New Zealand government was working to develop a Special Service Medal "to recognize service in extreme and hazardous circumstances," according to the New Zealand Defense Force.

The first round of medal recipients, in 2002, were people who had worked in New Zealand's nuclear testing. The second, in 2005, were those who assisted following the Asian tsunami the year before.

The Mount Erebus recovery crew members are the latest group to be honored, and Vorderstrasse and 12 other Americans received their medals June 4 at the New Zealand embassy.

"There was a video of the prime minister (John Key) at the ceremony," Vorderstrasse said. "He said, 'You're one of the home team.'"

Speaking in person was Commodore David Anson, head of New Zealand Defense Staff in Washington.

"Today we have formally acknowledged the personal courage and commitment to a ghastly task in the wake of a tragic accident," Anson was quoted as saying in a press release on the event.

He also noted that there are still about 20 U.S. citizens who need to be located so they can be presented with their medals.

Story by Steve Lundeberg. He can be reached at steve.lundeberg@lee.net and keeps a blog at http://stevelundeberg.mvourtown.com/